Professor Christine Huang awarded the Vice-Chancellor's Exemplary Teaching Award and the Faculty of Social Science Exemplary Teaching Award 2012
Professor Christine Huang awarded the Vice-Chancellor's Exemplary Teaching Award and the Faculty of Social Science Exemplary Teaching Award 2012
The University has strong commitment to provide quality education. To recognize the excellent performance of teaching staff, the Exemplary Teaching Award was established since 1999 to give recognition to outstanding teachers. Every year, each Faculty can nominate at least one teacher for the award.
In 2012, Professor Christine Huang of our School was awarded the Faculty of Social Science Exemplary Teaching Award. Professor Huang's commitment to quality teaching was highly commended and her performance in teaching was considered excellent in the eyes of students and other teaching staff.
Congratulations to Professor Christine Huang again!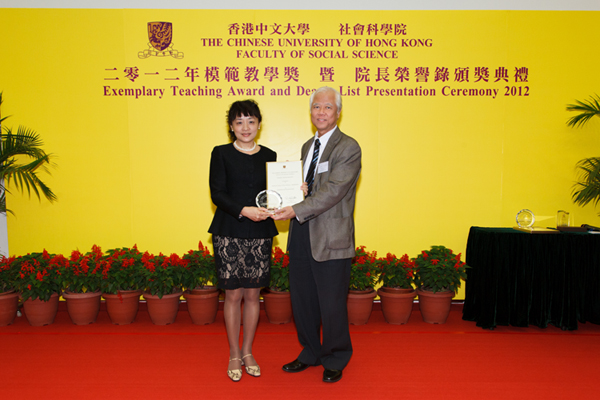 Prof. Paul Lee presented the Faculty of Social Science Exemplary Award to Prof. Christine Huang.