Public Talk by Prof. David Atkin, a Scholar in New Media and Telecommunication
Prof. David Atkin, Professor of Communication at the University of Connecticut, was invited by the C-Centre to give a talk titled The influence of public opinion, media use, and the senses of humor on attitudes toward marginalized populations on 5 December 2012 at the Chinese University of Hong Kong.

Prof. Atkin is recognized as one of the top most prolific scholars in the history of communication discipline and telecommunication and communication policy. His books include Communication Technology & Society, The Televiewing Audience and Communication Technology & Social Change.

The talk examined the relative impact of media exposure on public opinions toward marginalized populations, applying the notion of multiple "senses of humor" as an affective filter in the progress of opinion formation. Prof. Atkin considered that in addition to social locators, senses of humor are important predictors of public opinion about marginalized populations.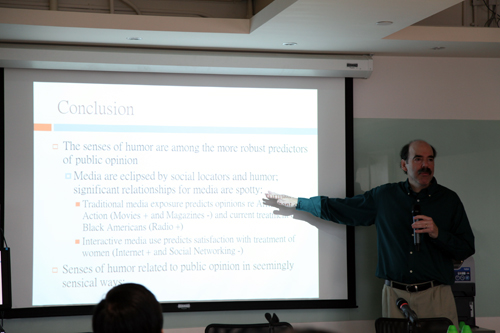 Prof. Atkin at the talk.