Public Talk by Prof. Carolyn Lin, a Scholar in Communication Technologies and Advertising
Prof. Carolyn Lin, Professor of Communication at the University of Connecticut, was invited by the C-Centre to give a talk titled International Advertising Strategies in the Digital Information Age on 21 November 2012 at the Chinese University of Hong Kong.

Prof. Lin is a renowned scholar in communication technologies, health communication, advertising, international communication, etc. She is also the Founder of the Communication Technology Division at the Association for Education in Journalism & Mass Communication (AEJMC). She was a recipient of a University Distinguished Research Faculty award.

In the talk, Prof. Lin regarded that digital advertising has become an increasingly essential component of a successful marketing strategy. She analyzed the social and cultural dynamics that would drive advertising success. Also, Prof. Lin talked about the theories and practices that could best sharpen effectiveness of international or global online advertising strategies.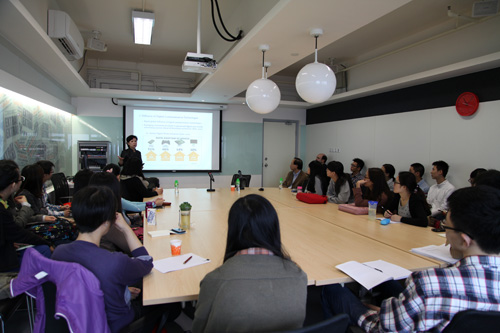 The talk attracted a lot of students as well as teachers.