Public Talk by Prof. Sue S.C. Huang, a Scholar in Culture Industry Studies
Prof. Sue S.C. Huang, Director of Research Center of Culture Art & Creative Industries in Nanhua University, was invited by the C-Centre to give a talk on Impacts of cultural environmental changes on performing art groups in Taiwan on 7 November 2012 at the Chinese University of Hong Kong.

In the talk, Prof. Huang introduced the development of performing art industry in Taiwan and discussed the international trend of the industry. She analyzed how the social and cultural changes made the impacts on different performing art groups during the past decades in Taiwan. The talk attracted students and scholars from our School and other departments as well.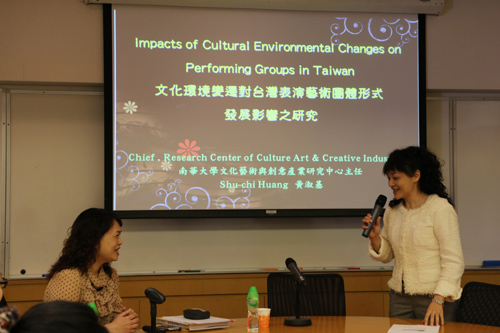 Prof. Sue Huang (left) and Prof. Christine Huang (right), the moderator of the talk