The Chinese University of Hong Kong Communication Visiting Scholar Program 2019
Social Media and the Boundary between Public and Private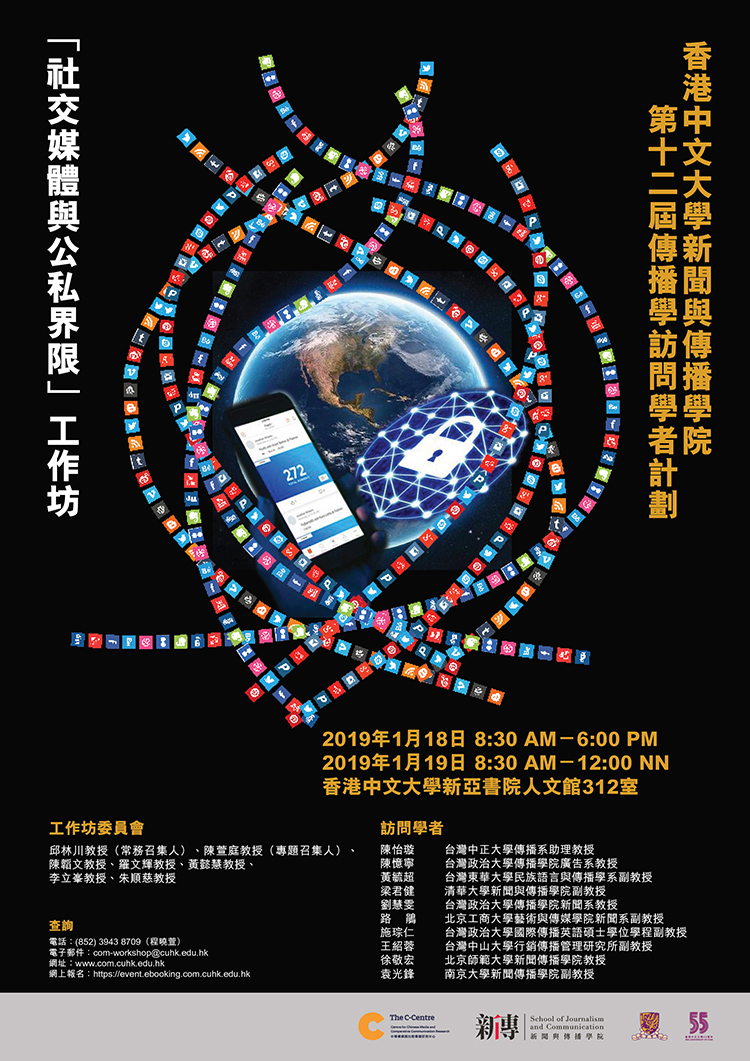 Introduction
The School of Journalism and Communication at the Chinese University of Hong Kong has been organizing the annual Communication Visiting Scholar Program since 2008. The Program aims to promote academic exchange and links among Chinese-speaking scholars in cultural China and improve the quality of research of the Chinese research community. The Centre for Chinese Media and Comparative Communication Research (The C-Centre) of the School of Journalism and Communication will play host to this program in 2019.
Program Theme 2019
The theme for the 2019 workshop is "Social Media and the Boundary between Public and Private". The visiting scholars participating in the workshop are expected to stay in Hong Kong for 13 days from 14 January 2019 to carry out intensive academic exchange and research. The School will provide a daily living allowance of HK$300 and accommodation for each visiting scholar.
Call-for-Paper
All participants are required to present a paper related to the said theme at the workshop in Chinese. The deadline for the submission of extended abstracts is 1 June 2018 and the full paper submission deadline is 1 November 2018. Please refer to the Chinese version of the workshop pamphlet for details.
The Annual Workshop Committee
Prof. Jack Qiu (Standing Co-Convener)
Prof. Hsuan-Ting Chen (Theme Co-Convener)
Prof. Joseph Chan
Prof. Ven-hwei Lo
Prof. Francis Lee
Prof. Christine Huang
Prof. Jack Qiu
Prof. Donna Chu
Enquiry
Daisy Cheng and Ivy Chow
Phone: 3943 3241
Email: This email address is being protected from spambots. You need JavaScript enabled to view it.