Chinese Journal of Communication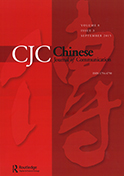 Aim & Scope
Launched in 2008, The Chinese Journal of Communication (CJC), is a scholarly publication aimed at elevating Chinese communication studies along theoretical, empirical, and methodological dimensions, while contributing to the understanding of media, information, and communication phenomena around the world. This refereed journal serves as an important international platform for scholars and students in Chinese communication studies to exchange ideas and research results. Interdisciplinary in scope, it will examine subjects in all Chinese societies in Mainland China, Hong Kong, Taiwan, Macau, Singapore, and the global Chinese diasporas.
The CJC welcomes scholarly works using social scientific or humanistic approaches on such topics as mass communication, journalism studies, telecommunications, rhetoric, cultural studies, media effects, new communication technologies, organizational communication, interpersonal communication, advertising and public relations, political communication, communications law and policy, and so on. Articles employing historical and comparative analysis focused on traditional Chinese culture as well as contemporary processes such as globalization, deregulation, and democratization are also welcome.
Published by Routledge, Chinese Journal of Communication is institutionally based at the Centre for Chinese Media and Comparative Communication Research, the School of Journalism and Communication, The Chinese University of Hong Kong.
This journal uses ScholarOne Manuscripts system to peer review manuscript submissions. Please read the Instructions for the authors before making a submission.
Editor
| | |
| --- | --- |
| Francis L. F. Lee | The Chinese University of Hong Kong, Hong Kong |
Associate Editors
| | |
| --- | --- |
| Hsuan-Ting Chen | The Chinese University of Hong Kong, Hong Kong |
| Shu-Chuan (kelly) Chu | DePaul University, USA |
| Chih-Hui Lai | National Yang Ming Chiao Tung University, Taiwan |
| Jingrong Tong | University of Sheffield, UK |
| Saskia Witteborn | The Chinese University of Hong Kong, Hong Kong |
| Angela Xiao Wu | New York University, USA |
| Lin Zhang | University of New Hampshire, USA |
Book Review Editor
| | |
| --- | --- |
| Oliver N. K. Chan | The Chinese University of Hong Kong, Hong Kong |
Editorial Assistants
| | |
| --- | --- |
| Daisy Xiaoxuan Cheng | The Chinese University of Hong Kong, Hong Kong |
| Han Fu | The Chinese University of Hong Kong, Hong Kong |
| Fangyu Qing | The Chinese University of Hong Kong, Hong Kong |
Editorial Advisory Board Members
| | |
| --- | --- |
| Peng Hwa Ang | Nanyang Technological University, Singapore |
| Wei Bu | Chinese Academy of Social Sciences, China |
| Manuel Castells | University of Southern California, USA |
| Julie Yujie Chen | University of Toronto, Canada |
| Nick Couldry | London School of Economics, UK |
| William Dutton | University of Leeds, UK |
| Lei Guo | Fuhan University, China |
| Louisa Ha | Bowling Green State University, USA |
| David Hesmondhalgh | University of Leeds, UK |
| Yu Hong | Zhejiang University, China |
| Yong Hu | Peking University, China |
| Chen-Ling Hung | National Taiwan University, Taiwan |
| Ki Deuk Hyun | Akita International University, Japan |
| Crystal Li Jiang | City University of Hong Kong, Hong Kong |
| Jianbin Jin | Tsinghua University, China |
| Yonghwan Kim | Dongguk University, Korea |
| Jeroen de Kloet | University of Amsterdam, The Netherlands |
| Chin-Chuan Lee | National Chengchi University, Taiwan |
| Hongtao Li | Zhejiang University, China |
| Luzhou Nina Li | Monash University, Australia |
| Jhih-Syuan (Elaine) Lin | National Chengchi University, Taiwan |
| Shih-diing Liu | University of Macau, Macau |
| Yu-li Liu | City University of Hong Kong, Hong Kong |
| Shuning Lu | North Dakota State University, USA |
| Yanqin Lu | Bowling Green State University, USA |
| Tom McDonald | The University of Hong Kong, Hong Kong |
| Toby Miller | University of California, Riverside, USA |
| Yi Mou | Shanghai Jiaotong University, China |
| Ji Pan | Fudan University, China |
| Wenjing Pan | Renmin University of China, China |
| Maria Repnikova | Georgia State University, USA |
| Todd Lyle Sandel | University of Macau, Macau |
| Saif Shahin | Tilburg University, The Netherlands |
| Bo Shan | Wuhan University, China |
| Fei Shen | City University of Hong Kong, Hong Kong |
| Lijiang Shen | Pennsylvania State University, USA |
| Daniela Stockmann | Hertie School of Governance, Germany |
| Chris Chao Su | Boston University, USA |
| Yan Su | Peking University, China |
| Yue Tan | National Sun Yat-sen University, Taiwan |
| Harsh Taneja | University of Illinois Urbana-Champaign, USA |
| Ingrid Volkmer | The University of Melbourne, Australia |
| Cara Wallis | Texas A&M University, USA |
| Song-In Wang | National Chung Cheng University, Taiwan |
| Lars Willnat | Syracuse University, USA |
| Guobin Yang | University of Pennsylvania, USA |
| Fanxu Zeng | Tsinghua University, China |
| Guoliang Zhang | Shanghai Jiaotong University, China |
| Jingwen Zhang | University of California Davis, USA |
| Mingxin Zhang | Huazhong University of Science and Technology, China |
| Xinzhi Zhang | Hong Kong Baptist University, Hong Kong |
| Zhijin Zhong | Sun Yat-sen University, China |
| Baohua Zhou | Fudan University, China |
| Shuhua Zhou | University of Missouri, USA |
| Zhiqiu Benson Zhou | NYU Shanghai, China |